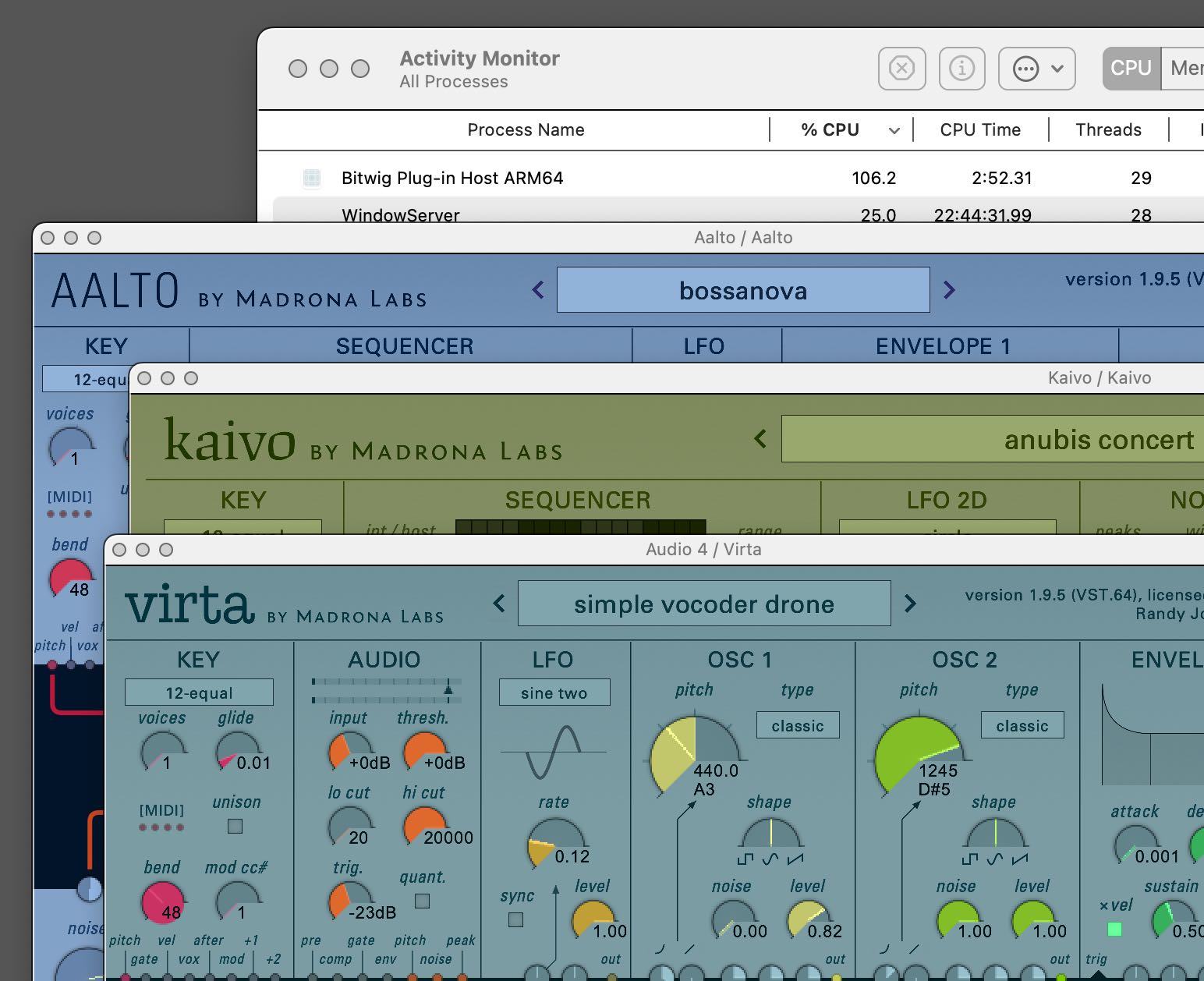 We have updated all of our software instruments—Aalto, Kaivo, and Virta— to version 1.9.5, bringing native Apple Silicon support for M1 and M2 Macs. The new versions are Universal Binaries, which support both Apple Silicon and Intel processors. Users with Apple Silicon computers should be able to run 30% more voices or more, as compared with the previous versions in Rosetta 2 emulation.
This update is free. Installers contain Universal Binaries for both VST2 and Audio Units V2 versions.
Windows versions are unaffected by this update. Aaltoverb, previously released with Apple Silicon support, is also unaffected.
Great update! Love seeing everything M1 compatible.
Any chance for VST3 versions in the future? From my understanding, Steinberg/Cubase in particular are heading in the direction of VST3 only.
Thanks!
oh yes, I'll make VST3 versions before too long.
Thank you, works perfectly!
I appreciate the notes! Thank you all for your support.
Hi, I just downloaded and installed all updates, and tried to run Virta, but it does not show up as an available plugin.
I am running Mojave 10.14.6 on a 2018 Intel Mac Mini and Logic 10.5.1.
It has been successfully validated and shows up in the Plug-in Manager as a valid "Midi-controlled effect" like Aaltoverb 2.0. But when trying to use it on a track, it does not show up under Madrona Labs menu, while both versions of Aaltoverb (as well as Aalto and Kaivo) do. Any ideas how to troubleshoot?
--- EDIT: SOLVED ---
I had restarted the Mac earlier, which did not help, but then I tried to reinstall the earlier version using the 1.9.4 installer, and after that, the 1.9.5 version became available. I then restarted again to see if it continues to work, and now it is running apparently normally.
I appreciate that you updated your post! Glad it's working. Yes, the "mystery reboot" is still all too necessary for Audio Units especially.
Any update on VST3 compatibility?
Hi : ) I upgrade to Sonoma def and I need VST3 to run them in Komplete Kontrol, any news? thx in advance!
No news but it's my top priority besides Sumu.