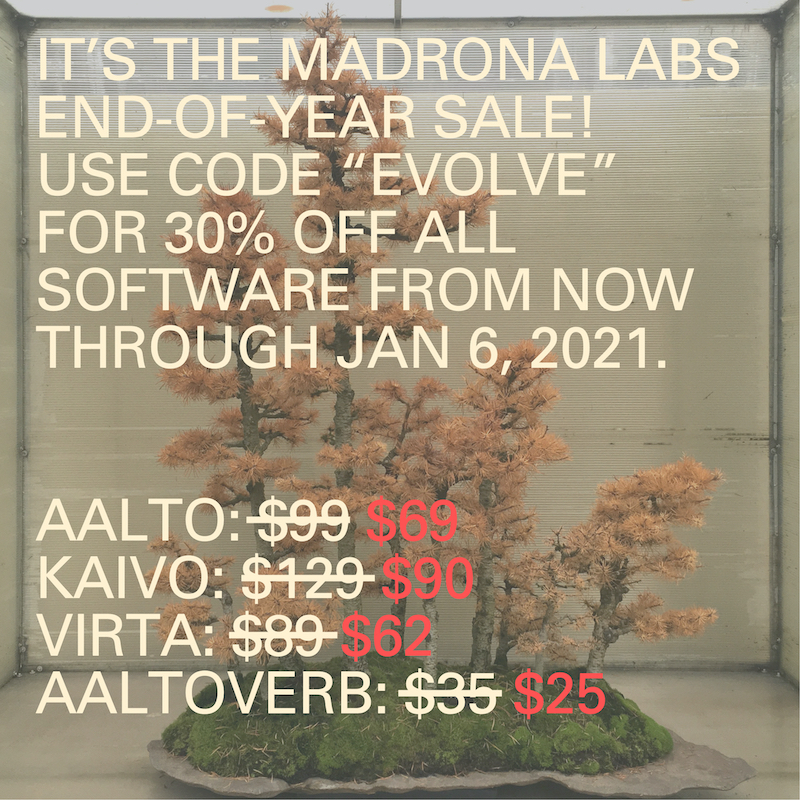 Happy Solstice, and here's to change and evolution. This goes out with all my best wishes to everyone for health, peace and prosperity in what has been such a hard year for so many. I hope that, despite COVID, you are finding ways to keep sane and happy, to nurture your body and spirit. A few weeks ago I got away on a short trip to meet some friends at the Pacific Bonsai Museum. That's where the lovely grouping of golden larch trees on the sale image here comes from. Visiting was a meditative, inspiring and world-expanding trip for me and if you're in the Seattle area, I recommend it highly.
From now through January 6 2021, our year-end sale is happening! You can use the code EVOLVE to get 30% off all our software. If you're an Aalto fan but you've been holding out on getting Kaivo or Virta or Aaltoverb, now's a great time. And yes, our simple bundle deal is in effect along with the year-end discount, if you choose to take advantage of them both. This results in some big discounts!
Finally, if you're looking for a last-minute gift, you should know that it's easy to give a Madrona Labs software license! A gift license can even be part of a simple bundle with one you bought for yourself and I'll be happy to transfer it free of charge (and judgement). Just email me at support@madronalabs.com to let me know. I'm taking Dec 25, Dec 31, and Jan 1 away from the computer but otherwise I'll be available within 24 hours (and probably less) to help make your holiday dreams come true.
Randy,
I wasn't sure I could use Virta (I have everything else in your arsenal) because I don't do much audio. But I found somebody on the web who plugged it into Aalto, so I tried it, and it blew my mind. It is like a Music Easel on steroids. So, thank you for the Christmas present ! I can't wait to get home after the holidays and play my bassoon through it.
Best Regards,
Michael
mhazdra do you have a link to that? Sounds interesting.
Hello
Do you have education pricing? I am a Grad student at Walden University MN, USA.
If not, when will you have another 30% off event? I'd like to purchase AALTO, KAIVO, VIRTA & AALTOVERB.
Thank you
Garey