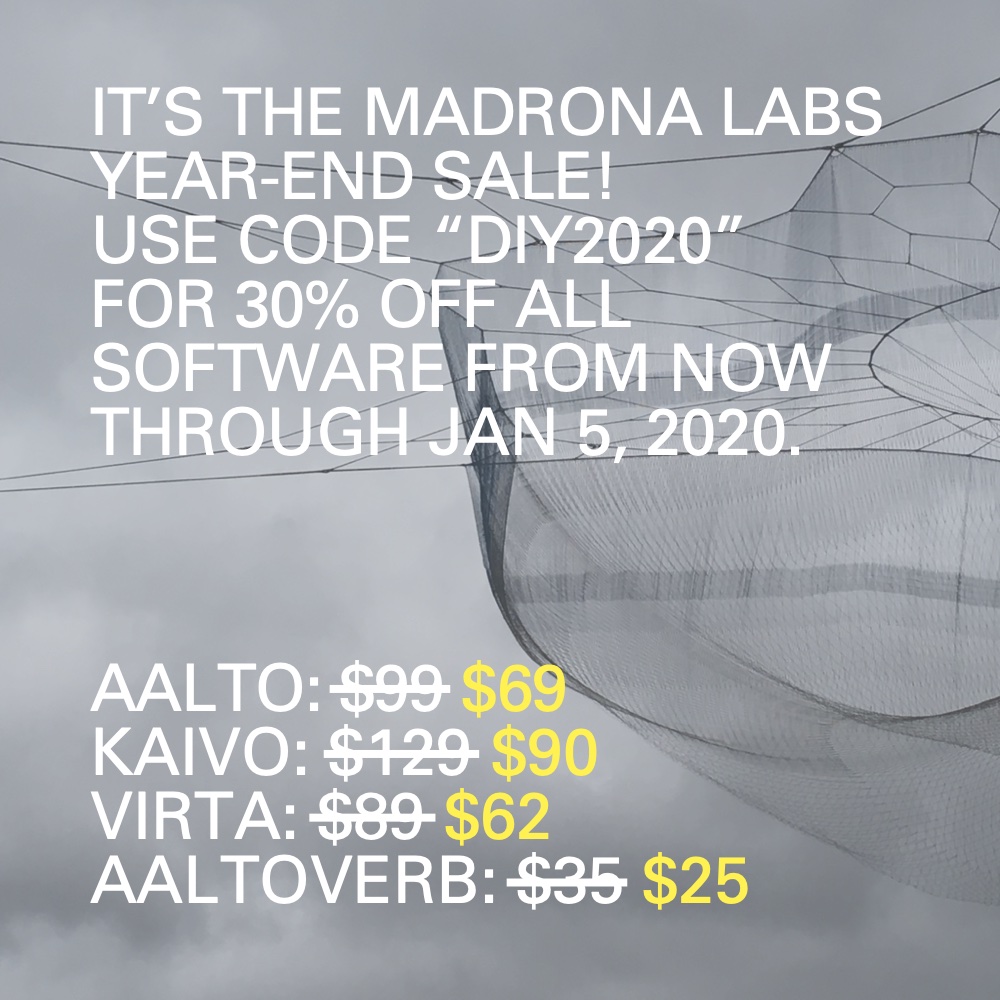 Warmest holiday wishes to everyone! Though I love the big dinners with family and friends, winter here is also a great time for immersing myself in the lab and researching what's next. This particular image I took the other day captures the Seattle vibe I'm feeling right now—very grey and wet, but futuristic and optimistic. The suspended sculpture by Janet Echelman is called "Impatient Optimist" and you can read more about it here.
From now until January 6 2020, our year-end sale is happening! You can use the code DIY2020 to get 30% off all our software. If you're an Aalto fan but you've been holding out on getting Kaivo or Virta, now's the time. And yes, our simple bundle deal is in effect along with the year-end discount, if you choose to take advantage of them both. This results in some big discounts: adding Aaltoverb to your Kaivo purchase, for example, will set you back only an additional ten dollars or so.
I always think, maybe a silly amount, about the sale code: what word do you type into that little box to get the discount? Maybe because it's like a kind of incantation, and I want it to be a positive one. If there's one thing we can use more of in 2020 it's more DIY, so: DIY2020. Doing It Yourself doesn't necessarily mean just all alone in the comfort of your own Labs, but also and especially with friends, getting together to have fun and make culture. I wish you all the DIY time you can carve out in 2020, and when you have something to transmit, let me know! Hopefully I will be able to buy it on Bandcamp, where I found most of my favorite new music this year.
Finally, if you're looking for a last-minute gift, you should know that it's easy to give a Madrona Labs software license! A gift license can even be part of a simple bundle with one you bought for yourself and I'll be happy to transfer it free of charge (and judgement). Just email me at support@madronalabs.com to let me know. I'm taking Dec 25, Dec 31, and Jan 1 away from the computer but otherwise I'll be available within 24 hours (and almost certainly less) to help make your holiday dreams come true.
Hey Randy,
This is the year to get all 4 licenses!! I missed it last year. I've spent a lot of time with all 3 of the synth softwares plugins and made quite a few really cool sound samples out of all the tweeks and bends.
I love the boutique feel of your work and I am looking forward to being able to go full tilt without the soothing sound waves. lol
Thank you for using the vision you've been given to inspire vision in others!
:) D
Welcome aboard, and enjoy!
Definitely some of the best virtual instruments available. Been messing around with the demos and Allto CM for a long while now...Worth every bit of the full price but the sale helps me tremendously. Will be getting all 3 instruments and Aaltoverb . I'm really anticipating what Sumu brings to the table. Keep the good work up Randy and thanks a million!!!!